Digital is our passion. BusinessTech-Company is a consulting firm offering SAP consulting and expertise in developing new business concepts as well as implemeting digital technologies. Well known companies trust in their services around big data, cloud computing and mobile solutions. The main goal is to manage and lead the digital businesses.
Digitalization
Digitalization is defined by us like this:

Transformation of the "real" business into the technological, machine-readable virtual world.

BusinessTech-Company
Exceptional added value through automized interconnection of machines, objects, information and people.
We see the Digital Transformation internally and externally for the companies: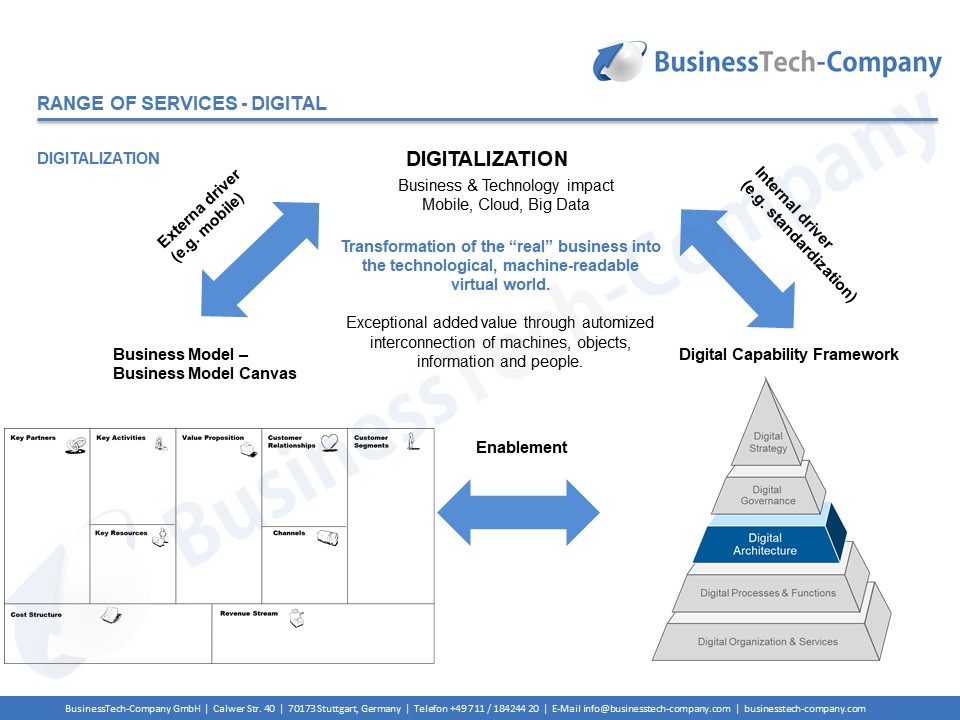 Internal digitalization
The internal digitalization is usually the "classical" approach of optimizing the operations of a business. Here we provide a holistic Digital Capability Framework. This includes:
| | |
| --- | --- |
| Digital Strategy | Creating a Digital Strategy. Some say it is a strategy in a digital world, some say it is an explicit strategy for a company. |
| Digital Governance | Creating a governance model to safeguard the implementation of the digital strategy. And – vice versa – to safeguard the alignment of the digital architecture. |
| Digital Architecture | The digital architecture is very important to optimize the efficience of all the different products and solutions inside a company. Methodologies like TOGAF and other like Zachman can be used to create a effective architecture. |
| Digital Processes | Digital processes are very important to do the business. Methodologies like BPM or ARIS can be used for this. Main goals should be automatization and no media breaks (digital records only). |
| Digital Organization | Companies still need human beings for their business. But former concepts do not work anymore for digital natives / Generation Y. Here New Work, Reinventing organizations and Scrum support to create a solid workforce. |
External digitalization
External Digitalization means to us external challengers like Uber for all mobilty service companies. Here we provide own solutions and white label solutions. We support our customer to tackle their competitors.
For this we usually use the Business Model Canvas.
Digital projects
We launch following projects soon:
| | |
| --- | --- |
| SocialRecruitingExperts.com | The platform for social recruiting |
| Chief-Digital-Officers.com | The community for Chief Digital Officers (CDOs) |
Plan, Build, Run
We do the Plan, Build, Run Lifecycle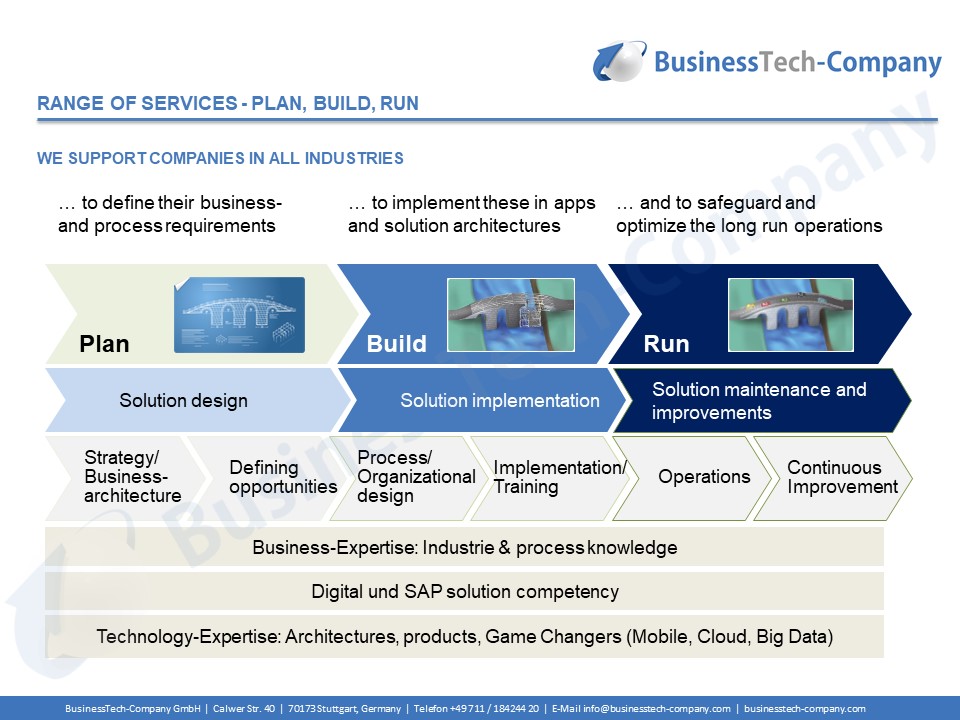 We support all industries in their lines of business. According to the Porter diagram, this look like the following way:
Plans
We plan to start digital platforms for each lines of business, like:
| | |
| --- | --- |
| Finance | digital-finance.com |
Additionally, we plan to start digital platform for following industries:
| | |
| --- | --- |
| Banking | banking-digital.com |
And for digital topics, too:
| | |
| --- | --- |
| Workplace | workplace-digital.com |
If you want to support us, feel free to invest or apply to one of our job openings.